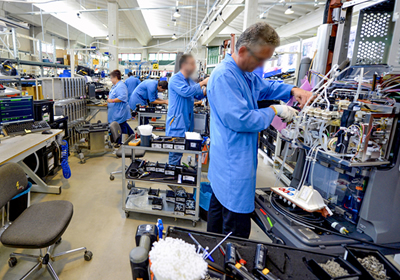 Capabilities
Özgür Kablo A.Ş continues its operations in a total production area of 16,000 mt2 and closed 12,000 mt2. Özgür Kablo A.Ş has 11 assembly lines in total; It continues its production activities with 25 plastic injection machines in a total of 1 vertical and 24 horizontal.
Our plastic injection line has a printing capacity of 60 tons to 550 tons, and an annual raw material processing capacity of 750-800 tons. In addition to our assembly and injection lines; 14 cable cutting machines, 17 manual terminal presses and 4 IDS socket typesetting machines are working. Our company has an annual 36 thousand km cable processing and 86 million terminal crimping capacity. We can manufacture hot-stamp printing, pad screen printing, electronic card typesetting and rubber parts together with our solution partner, our auxiliary industries.
Capacity
We have a raw material warehouse with a total usage area of 3,000 mt2. According to ABC analysis, layout work was done in the warehouse and working conditions in accordance with the FIFO principle were created. The total pallet capacity of our warehouse is… units, total storage volume… mt3. In the warehouse, an integrated barcode system is applied to the ERP software and all stock movements are monitored live.

Based on the vertical flow principle, the settlement is planned. There are 2 lathes, 1 grinding machine, 1 plunge erosion table, 1 radial drill table, 1 milling table, 1 cnc milling table registered in the inventory of our molding room. In our molding room, besides planned / unplanned maintenance of existing molds, new mold making and machine-apparatus maintenance are performed. We have 28 new mold making capacities per year.